The first ship for space tourists SpaceShipTwo successfully tested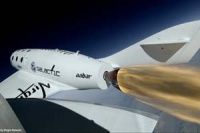 Suborbital spacecraft SpaceShipTwo (SS2) made its first test flight with the inclusion of a rocket motor to reach supersonic speed, which opens the way for the first flight into space, which is scheduled for late 2013, the company Virgin Galactic.
"The first time we were able to test the key components of the system in flight. Nynesheny supersonic success opens the way to a realistic goal — full space flight at the end of the year," — said Richard Branson, founder of Virgin Galactic.

This company, in partnership with Aabar Investments (which in July 2012 bought a 32% stake in Virgin Galactic) intends in the near future to offer everyone suborbital flight to an altitude of about 100 kilometers (according to the aviation regulations in the U.S., this height is considered to be the boundary of space). At the moment, pre-orders for a ticket into space made 580 people.
Aircraft designer Burt Rutan and his company Scaled Composites created for Virgin spaceship SpaceShipTwo and WhiteKnightTwo carrier aircraft on the basis of a successful prototype SpaceShipOne and WhiteKnight. SpaceShip is a rocket-powered aircraft. He lifted into the air by aircraft WhiteKnight, and at an altitude of about 20 kilometers should run your own engine and go into space. SpaceShipTwo takes on board six passengers and two pilots. In October 2010, he performed the first test flight.
The current test flight began at 0700 local time, when WhiteKnightTwo and SS2 took off from the spaceport in the Mojave Desert. At an altitude of about 14 kilometers SS2 separated from the carrier, and after checking all the systems included pilots rocket engine, which raised the ship to a height of 17 kilometers. Engine has been running as planned, 16 seconds, the speed of sound was exceeded by 1.2 times. 10 minutes after take-off SS2 made a safe landing.